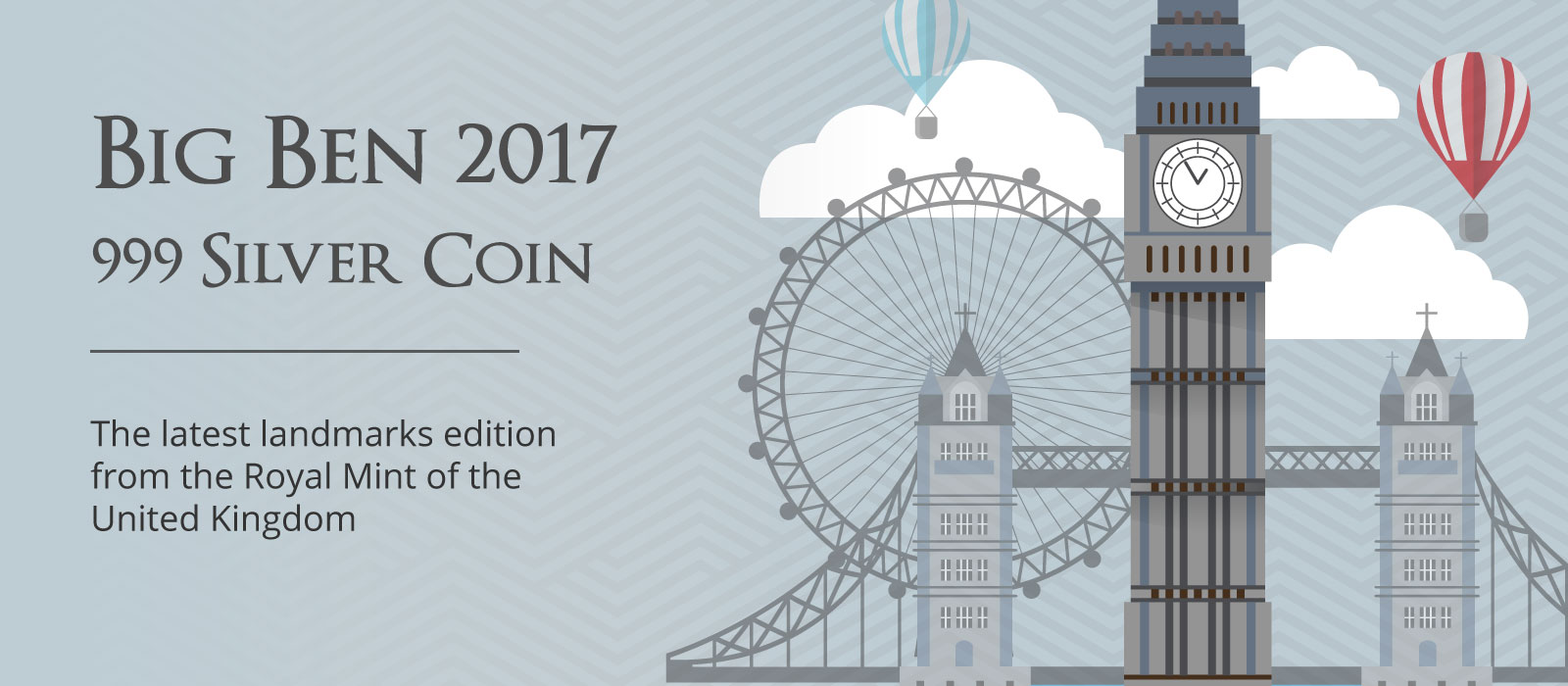 Royal Mint Launches New Bullion Range – the 1oz Silver Landmarks of Britain Series
The Royal Mint has launched a new silver bullion 1-ounce coin series called "Landmarks of Britain," beginning with the £2 Big Ben coin.

Up until recently, The Royal Mint has only had a limited range in bullion. However, over the past few years, we have seen them expand their range into more interesting and limited designs. The recently launched Anniversary Britannia has been followed by a new Bullion Series – "Landmarks Of Britain"
There are 4 coins planned for this series with the approximate release dates listed below:
Big Ben – Launched (Purchase Big Ben Here)
Tower Bridge – 

November 2017

Trafalgar Square – 

May 2018 (Subject to change)

Buckingham Palace – 

November 2018 (Subject to change)
Using a similar design as the four-coin colored Proof set from 2014 depicting four London landmarks, the first bullion coin is released; Big Ben. Said to be one of London's most recognizable landmarks, the coin draws inspiration from the iconic architecture and features of the tower. Whilst the tower is often referred to as Big Ben, Big Ben is actually the name of the bell in the tower at the north end of the Palace of Westminster.
It is believed that the name Big Ben is used in honor of Sir Benjamin Hall, First Commissioner for the Works 1855-1858. The original bell was cast in 1856 but quickly cracked. It was recast in 1858 but was to suffer the same fate. Finally, a lighter hammer was used to strike a different section of the still damaged bell, giving us the distinctive sound, a musical note E, we know today. It is a sound that has become an unmistakable thread in the very fabric of British life.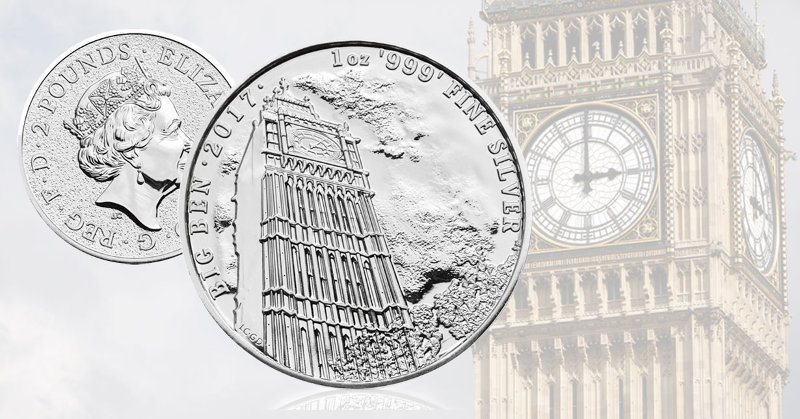 Instead of the straight-on shots of Big Ben that, one might be used to seeing in movies, television or postcards, the Royal Mint designers went for a "tourist view" of the tower – a street view with an overcast sky typical of London weather. The Big Ben and Buckingham Palace designs appeared on 2-ounce silver coins back in 2014 and 2015 and were denominated at £100, which they sold at their face value. The Big Ben coins sold out in a flash and acquired a good premium. Given the success of the proof versions, we expect the bullion to be just as successful.
This new bullion series is priced slightly above the Britannia. However, as there will be only 50,000 pieces minted per design across a range of four, demand is sure to be high. These coins can be purchased now from LPM. All coins come in individual capsules. We recommend getting into this Series with the first coin, it's always difficult and expensive to play catch up and complete the series after the subsequent releases.