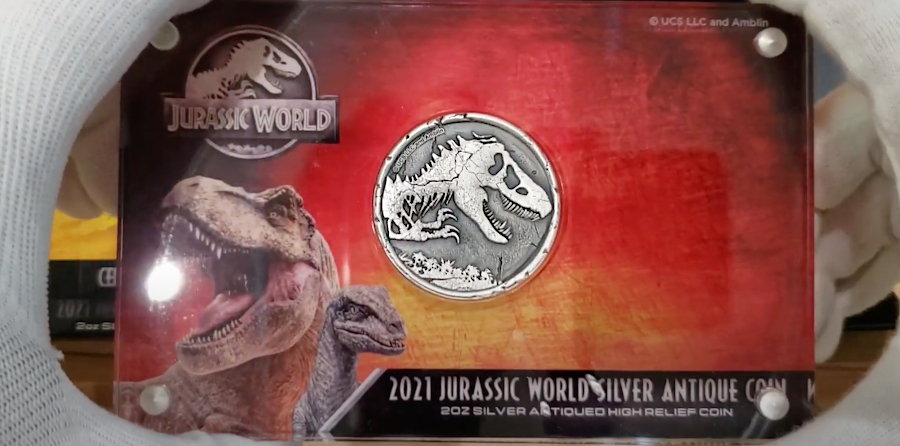 Jurassic World Silver High Relief Antiqued Cracked Coin
The new "Jurassic World" coin dazzles collectors and investors with its novel high-relief technology, and its fossil appearance and theme complement each other. These coins are coveted because there are only 500 coins available.
2021 2 oz Niue Jurassic World .999 Silver High Relief Antiqued Cracked Coin
The coin has several unique features. These include:
A unique cracked appearance that makes the coin hark back to Jurassic times. The high relief technique makes this look quite evocative.
Limited mintage of a mere 500 coins makes it quite a coveted one.
The coin is struck in .999 fine silver, weighs 2oz, and boasts an antiqued finish.
The Jurassic themed coin's obverse bears the image of Queen Elizabeth II and depicts the year (of issue) 2021, a $5 denomination, and the country of issue Niue.
On the other hand, the coin's reverse displays an officially licensed image of the iconic Jurassic World Logo.
The coin is aesthetically presented in an acrylic display case.
Comes with a numbered certificate of authenticity.
LPM is the exclusive International distributor (outside of Australia) for this new release.
The Jurassic World movie trilogy made its very successful debut in 2015, building on the already iconic success of the Jurassic Park film series. This is a genre that has enduring appeal across generations.
The Jurassic world symbolizes the origins of life on Earth and the recognition that the past leads to the present. That is also the story of coins. Coins have been around for thousands of years and link the past with the present. There is many a legend associated with coins down the years, and nothing lights up the eyes of a company of people more than an old tale about some ancient treasure lying somewhere, waiting to be discovered.
The world of dinosaurs is both real and rooted in legend. Real on account of all the fossils one has discovered across the country's length and breadth and legendary because of all the conjecture about their huge sizes and fearsome appearances. Nothing epitomizes this more than the movies of the Jurassic World trilogy.
As we move into 2021 and hopefully emerge from the Covid-19 induced crisis, the new Jurassic World Silver coin is perhaps symbolic of the passing of an old frightening age and the coming of a new and more enlightened age. Nothing symbolized that better than the cracked imagery of the new coin.
You might also like