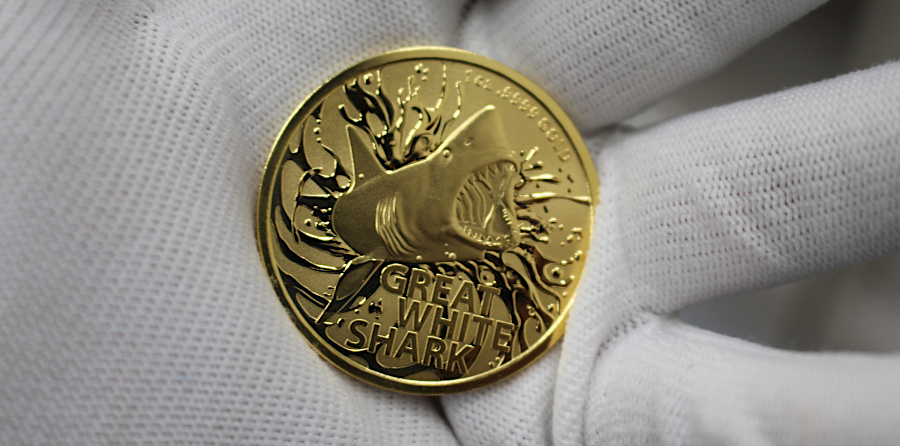 Great White Shark – the 2nd release in Australia's Most Dangerous series is now available from LPM.
The Great White Shark is the second release of the Royal Australian Mint's "Australia's Most Dangerous" series. These coins are created to the Mint's highest standards with guaranteed metal content and quality.
The Great White Shark follows on from the popular first release in the series featuring the Redback Spider.
The reverse of the coin portrays an action shot of the Great White Shark as it leaps out of the water.
The coin's obverse bears the effigy of Her Majesty Queen Elizabeth designed by Jody Clark.
History & Significance
The Great White Shark (Carcharodon Carcharias) is one of Australia's most feared creatures, yet relatively little is known about them because of their elusive behaviour. Immortalised in cult classic, Jaws, the Great White Shark is the world's largest known predatory fish and can grow up to six metres long. With up to 300 teeth across several rows and that replace themselves over the sharks lifespan, the Great White Shark tears its food into chunks before swallowing the pieces whole.
This apex predator is named after its white belly and features a grey upper body. Cruising at about 40 kilometres an hour, the Great White can propel itself up to 56 kilometres an hour in short bursts, such as when attacking its prey. They have been known to jump out of the water, breaching like a whale. While the predator has been found along Australia's east, south and west coastlines, human interactions with the shark are relatively rare. With Great White Shark numbers thought to be decreasing, they are a protected species in Australia.
Click HERE to find more products from LPM.